Main content starts here, tab to start navigating
Thank You Dayton.
We are so happy that Ghostlight Coffee has been a part of this community for ten years. We officially opened our doors on 11/14/21, and were immediately embraced by the community. Thank you for your tremendous support throughout the past decade.
We would like to express our gratitude to our supportive customers, our regulars.
Starting on Thursday, November 11, 2021 we are launching a punch card program to honor regular customers in various groups. We thought that it would be a fitting tribute to kick this off on Veteran's Day.
All Veterans and Active Duty personnel should present your MILITARY I.D. CARD to a barista and request a punch card. They will label it as "Military" and write in the deadline (November 30, 2021).
On each visit with a purchase at either of our two locations, the baristas will give your card a punch (only one visit per day).
After five visits with purchase between 11/11/21 - 11/30/21 (punches), you may redeem the card the next time you come in. The card is good for a FREE BAGEL or a FREE CUP OF DRIP COFFEE/TEA (sorry, no other pastries/drinks).
Your card will also serve as an entry for the Grand Prize of a Dozen Bagels & a Box of Coffee to share with your workplace/colleagues. Please fill out Name/Email/Workplace before redeeming your card.
NOTE - The drawing for the workplace prize will take place on DECEMBER 1ST, any cards redeemed after November 30, 2021 will not be eligible for the grand prize drawing. All cards must receive their five punches and redeemed before the November 30th deadline. No additional punches will be given to this specific group after the deadline written on the front of the card.
CARD EXAMPLES: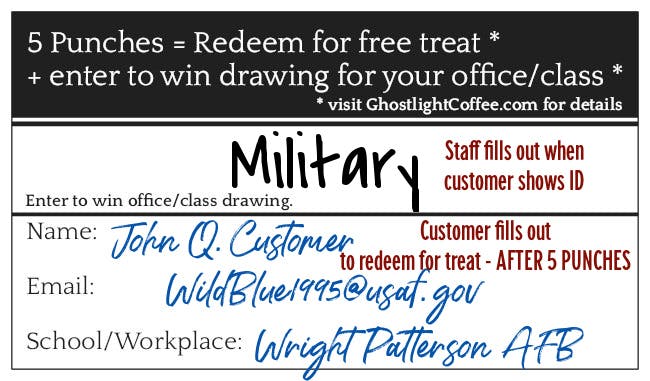 We will be honoring other local groups who represent the regular customers we are happy to serve every day in coming weeks and months! Watch social media for details.